Projects
Over the years we've worked on a wide range of great projects – some were memorable because of their size and scale, others were unique challenges we worked closely with the client to solve. Power Signs has the right mix of experience, skill and refined business processes to help you turn your ideas into first class creative solutions. Here are just a few examples.
Crombie Lockwood - Richmond Office. When Crombie Lockwood shifted to their new office in the latter stages of 2017 the wanted it to stand out!! By supplying us with some beautiful vibrant images of New Zealand's native Takahē and others. We were then able to transform them into practical privacy screens, a feature wall in the reception and various canvasses. A great example of what a bit of colour can do!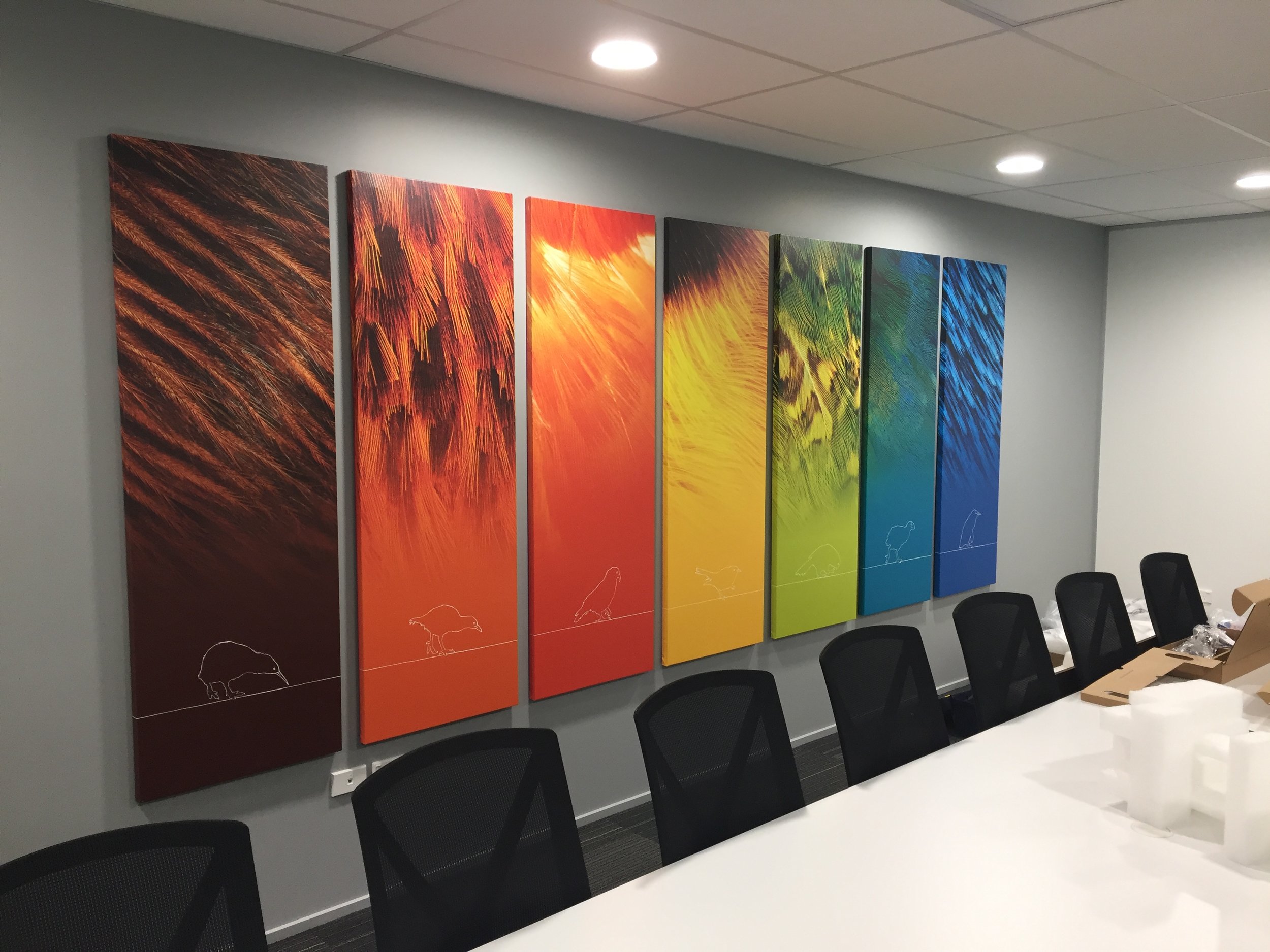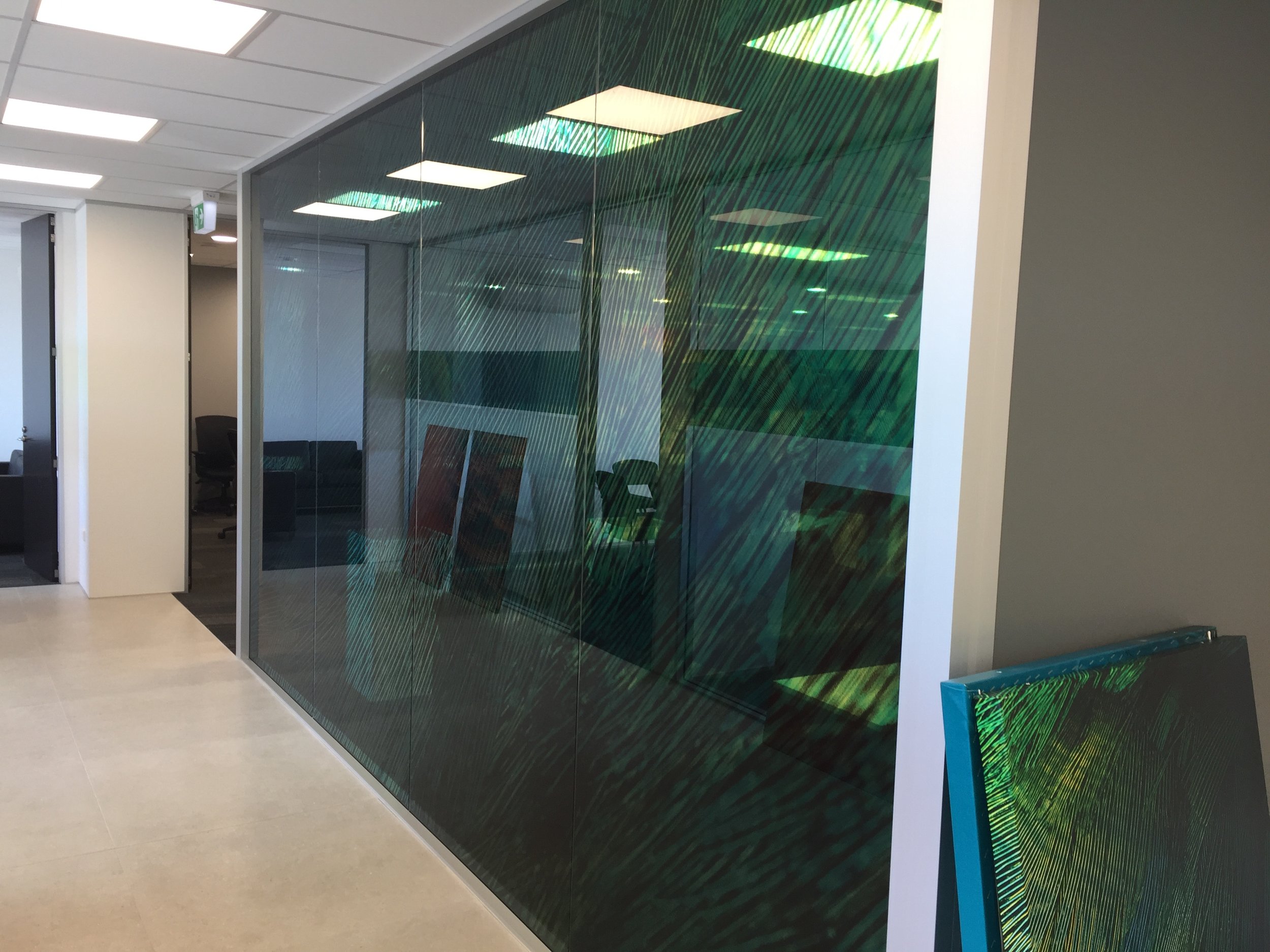 Jellyfish Café - Mapua. A prominent figure on the Mapua wharf has received a full makeover this winter (2017) from their brand to the building itself. Our team at Power Signs has been heavily involved since the beginning of this project, working closely with Simon & Debbie to develop a design package to suit their brief, this includes logo design, apparell, glassware and all stationary. After this was achieved we moved into production - creating their main building sign, a mixture of several different elements (LED's, 3D lettering, stained timber) coming together to produce and eye-catching display, this alongside the various other external and internal signage we created really helps make the Jellyfish Café a point of difference on the wharf.
The Cartoon Network in the United States contracted Nelson-based company Aflex Technology Ltd to create a a giant inflatable water obstacle course for their popular Adventure Time show. Aflex asked us to help them out with the signwriting of the PVC inflatables. For this job we worked closely with the Cartoon Network graphic designers who couldn't believe we were going to be doing the painting by hand! The designs were marked out and spray painted using a special ink plus a clear coating. The job took 4-5 months to complete and our clients were delighted with the result. The obstacle course is now in the Bahamas.
NMIT H Block is now home to a large ACM sign, for their Aquaculture department, they wanted something that would really stand out and this surely does the trick. This 20m sign did come with its challenges, but with the combined expertise of the team they were easily overcome.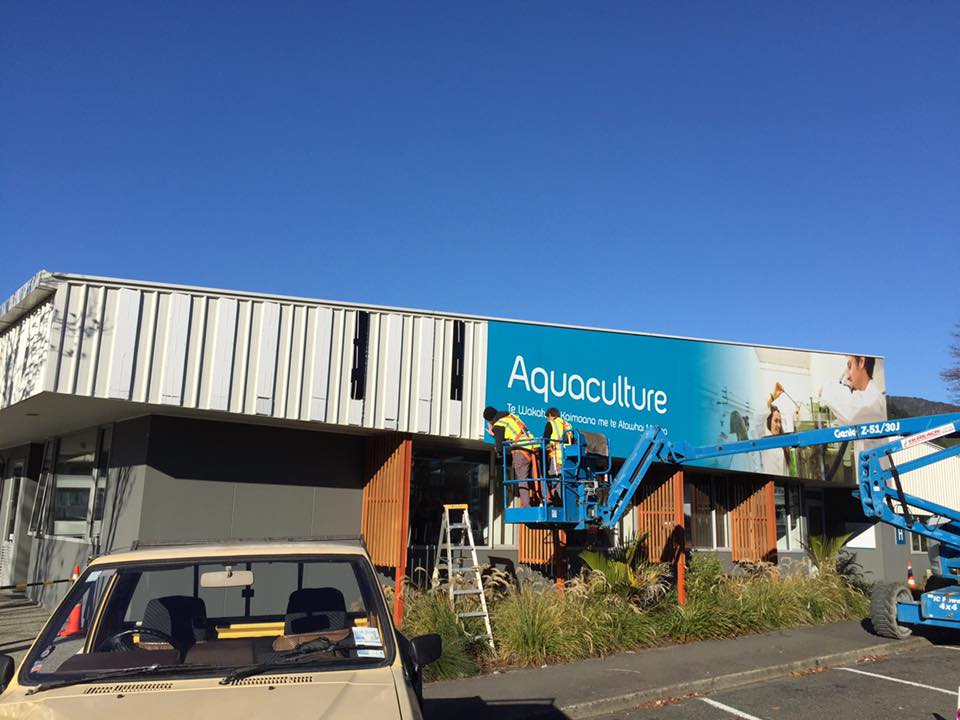 The Cool Store Gallery is a funky design store on the Mapua Wharf in an historic building. They wanted a 'classic and cool' sign using rustic lettering. Vinyl would have looked out of place in this setting, so instead we went down the traditional route of hand-painting onto weatherboard – not easy when you're dealing with uneven surfaces. The result is a unique business sign as full of character as the products you'll find inside.
We've been working with Nelson Provincial Museum Pupuri Taonga o Te Tai Ao for more than ten years on their signage requirements – from internal and external signage to display boards, digital prints, advertising banners and window displays. Using a wide range of processes and mediums, we love working with the museum's graphic design team to help create amazing exhibitions on everything from dinosaurs to WW1.
Richmond destination signs. Richmond is a town that borders Nelson – it has a vibrant and rapidly growing centre, but it's not easy or intuitive to access from the State Highway. The business community got together to do something about this and the result was the design and installation of several 'destination' signs that clearly directed visitors to the CBD. Power Signs was involved at all stages in this process and managed not only the production but the installation as well – working closely with Tasman District Council and NZTA. The result is a much higher visibility for Richmond's CBD and over time we're sure this will lead to increased retail spend and community growth.